The following squash tips and tactics should give you some new things think about or to try in your next big match.
If you haven't already then try introducing one or two new tips to your game each week and begin to see your game improve!
1. Drink
And I don't mean alcoholic – save that for after the game! Try drinking a couple of pints of water (if you can manage it) two to three hours before you play. This is a sure way to ensure that you're well-hydrated when your match begins. Being fully hydrated means your body won't get tired quite as quickly and helps reduce the risk of muscle-related injuries.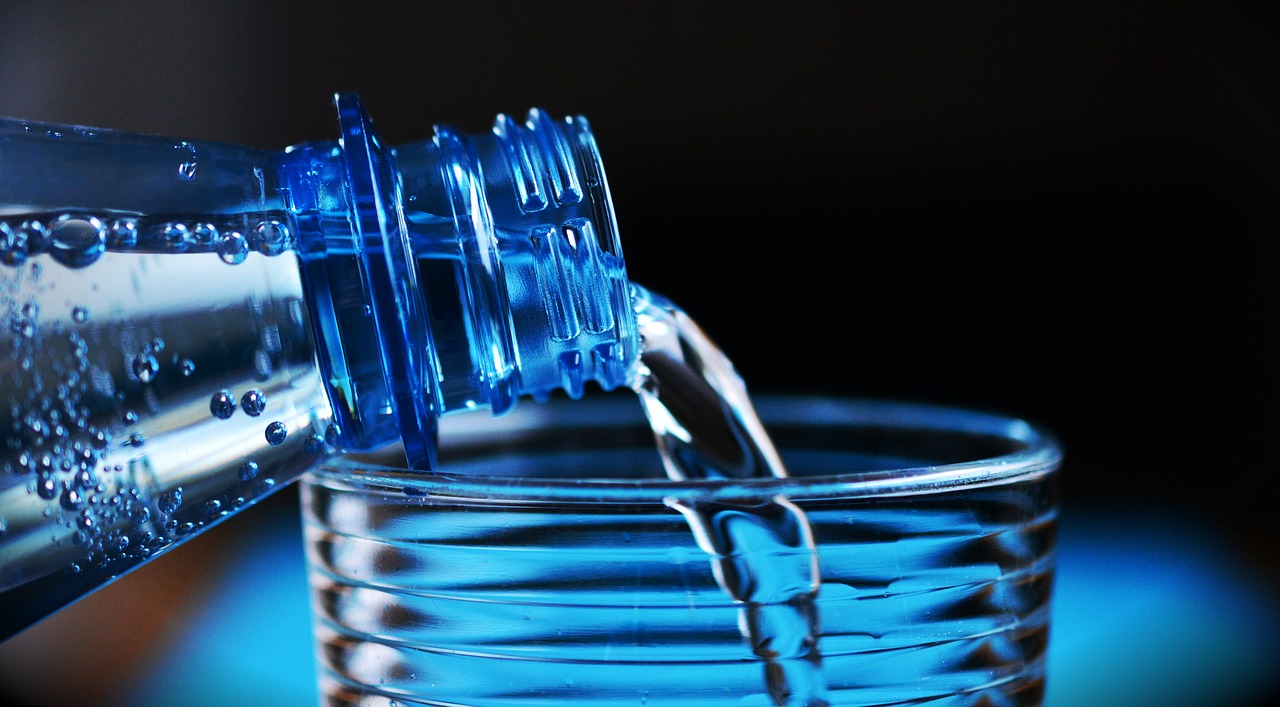 2. Stretch
Always stretch thoroughly before going on court. Squash involves a lot of lunging and reaching and therefore it is important that your muscles are fully warmed up. Focus predominantly on the muscle groups in your arms and legs.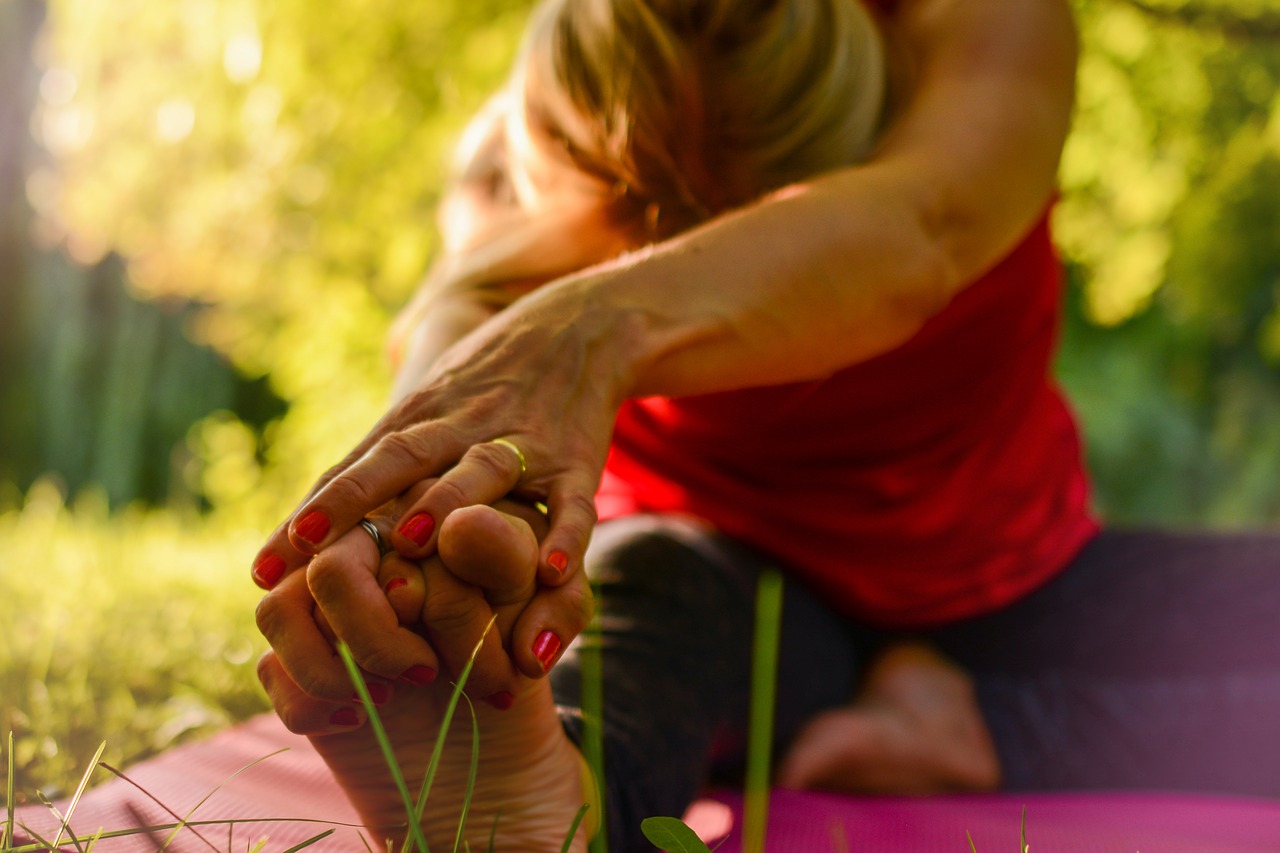 3. Warm the ball up
This is essential as the game is practically unplayable without a warm ball but warming the ball up also warms yourself up in terms of getting the blood flowing and your muscles working. All of which goes towards enabling you to stay injury-free. Please don't be greedy when warming the ball up. Control the ball and then play it back to yourself no more than twice before playing it back to your opponent.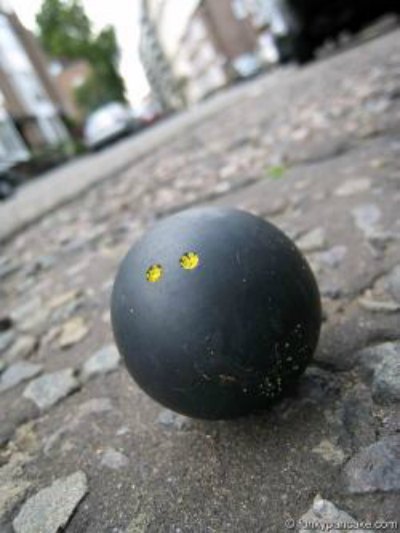 (Photo Credit: funkypancake)
4. Control the ball
Timing is essential in squash so get your timing and control of the ball working early on in the game and then as your confidence increases work on increasing the pace. Often accuracy is much more important than pace, a ball tight to the wall or close to the nick is usually harder for your opponent to return than one that is simply hit hard and loose.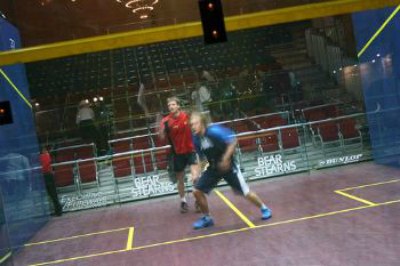 (Photo Credit David Boyle in DC)
5. Watch the ball
Watch the ball, not the front wall. As someone once said to me when I first started playing "Why are you staring at the front wall, it's not going to fall down you know!" Watch the ball with intensity – try and look for the dots on the ball as it's moving! Use your head and your neck to view the ball rather than turning your full body and potentially putting yourself out of position.
Also, watch how the ball leaves your opponents racket. If your opponent is a hard hitter then it's sometimes almost impossible to keep your eye on the ball all of the time, but what you can do is note how the ball left your opponent's racket. Did it come off straight or was it angled for a cross-court? Was it hit with pace or not? These clues can help you to determine where on the court you should be moving to.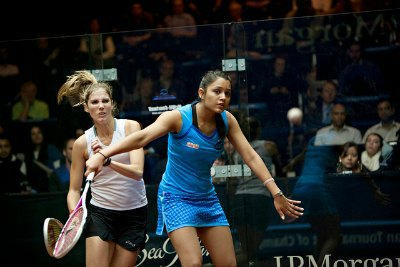 (Photo Credit: julesgriff)
6. Control the 'T'
Out of all of the squash tips, this one is very important. In squash, the person who has control of the 'T' usually has control of the game. If your opponent has played a shot that is effective at moving you off of the 'T' then don't be lazy in terms of recovering – move quickly back to the 'T' whilst continuing to keep your eye on the ball.
For beginner players, it's good to almost think of the "T" as your home and while ever you are in your home then it's difficult for anyone else to get in. So reach out for the ball, play a weaker shot but maintain your position on the "T" by stretching and/or taking the ball early.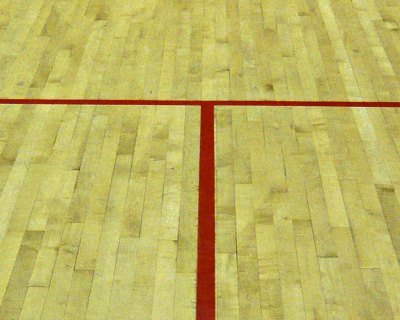 7. Volley
Take the ball early so as to take time away from your opponent and put them under pressure. The volley is predominantly an attacking shot and therefore you should always be looking for good opportunities to volley the ball. Volleying the ball often goes hand-in-hand with maintaining your "T" position – focus on control and accuracy overpower.
8. Concentrate
In squash, it is important to stay focused. Concentration is key. Don't lose your concentration by worrying about a bad shot, or a bad referee decision or some comment that your opponent makes.
Fitness is key to good concentration. The fitter you are then the more likely you'll be able to maintain your concentration.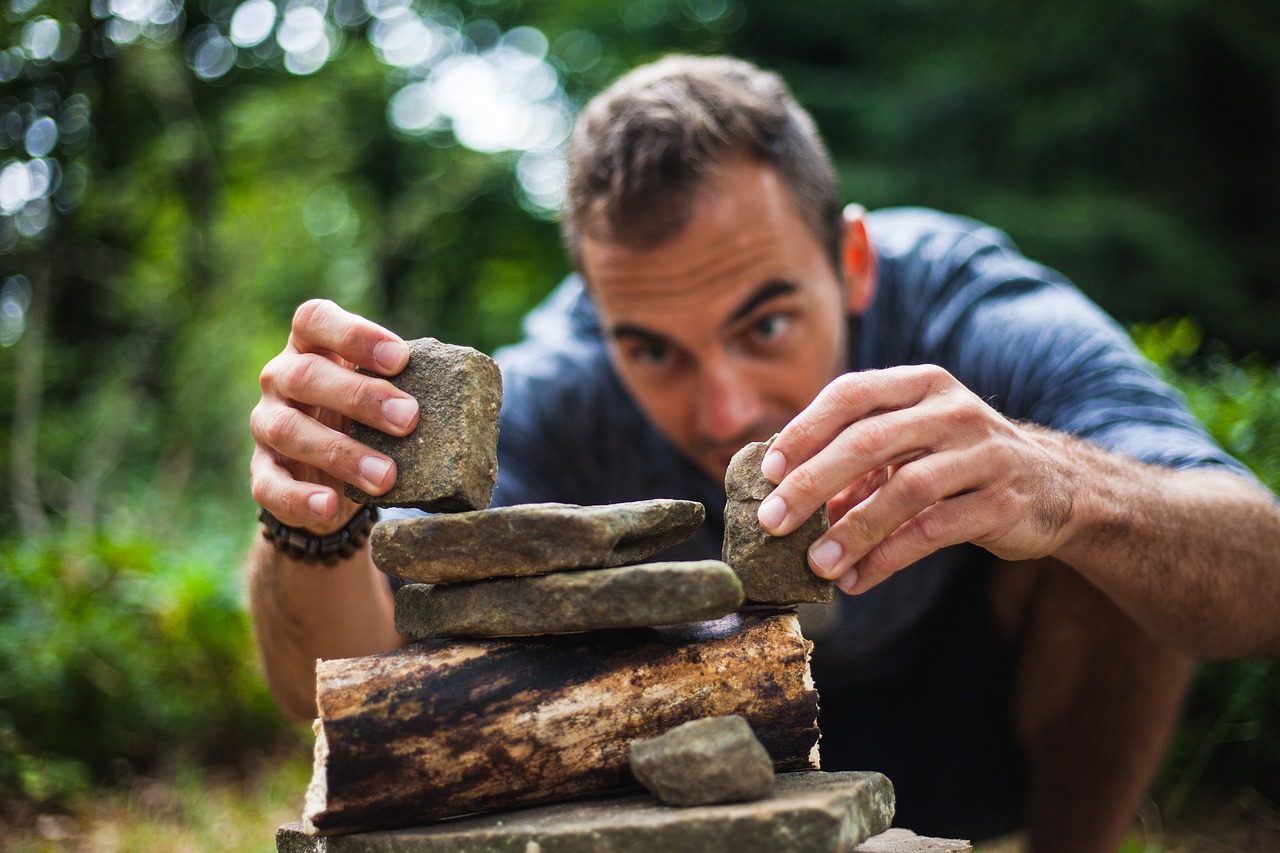 9. Play to the corners
The corners are the furthest areas away from the 'T' so try and aim the ball to the corners to force your opponent to run and in turn, give you more time in between shots.
10. Mix it up
Try and vary your game by mixing it up a little. If you keep playing similar shots from similar positions then your opponent will soon catch on and take advantage.
11. Keep it tight
In squash the term 'railing it' is used and this basically means to keep the ball tight to the side walls. A ball tight to the wall reduces the possibility of your opponent playing an angle-shot and therefore they have fewer options.
12. Change the pace
Try alternating the pace you hit the ball. Try fast, hard shots and then try slowing the game down with some slower, higher deeper shots. Note how your opponent responds.
13. Remain calm
Staying calm is essential as losing your cool not only motivates your opponent but also can affect your thinking which can lead to poor shot selection.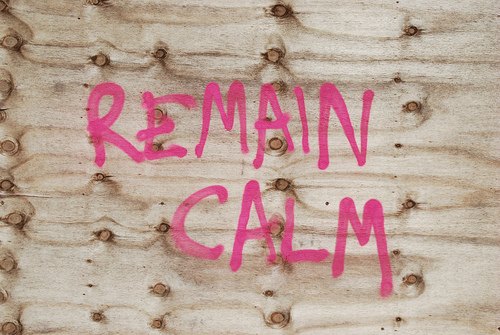 (Photo Credit: Ian Gallagher)
14. Stay on your toes
Don't get flat-footed, stay on your toes and keep your feet moving.
15. Use Height
Think about using the height of the front wall to get the ball to the back of the court. Using height means you don't have to put as much effort into hitting the ball whilst still getting a decent length. It can be great to use when under pressure as a slower, higher ball can give you some extra time to recover to the 'T'. If you're not under pressure you can still use height to simply give yourself a little more time to consider your positioning and the match in general. For high cross-court shots try and judge the width – poor width could result in your opponent easily attacking the shot with a volley.
16. Use Deception
Try and show your opponent one shot but then hit another. For example raise your racket as if you are going to hit a strong powerful shot and then actually play a drop shot, or reach your racket out to the ball so that it looks like the only shot you can play is a drop shot and then at the last minute flick the ball high to lob it into the back of the court. Please see the page squash deception for further details on how you can deceive your opponent.
17. Practice
Of all the squash tips this one should almost go without saying. As with almost any sport or skill you want to acquire, practice makes perfect. Try and play an opponent weaker than yourself once each week. This enables your opponent to get better and it enables you to practice and work on some of your weaker areas. Then also try and play one person at a similar level to yourself and play one person who's better than you.
Practice areas of your game that you really want to improve, playing lots of games is lots of fun but it is unlikely to aid you in improving on your week points.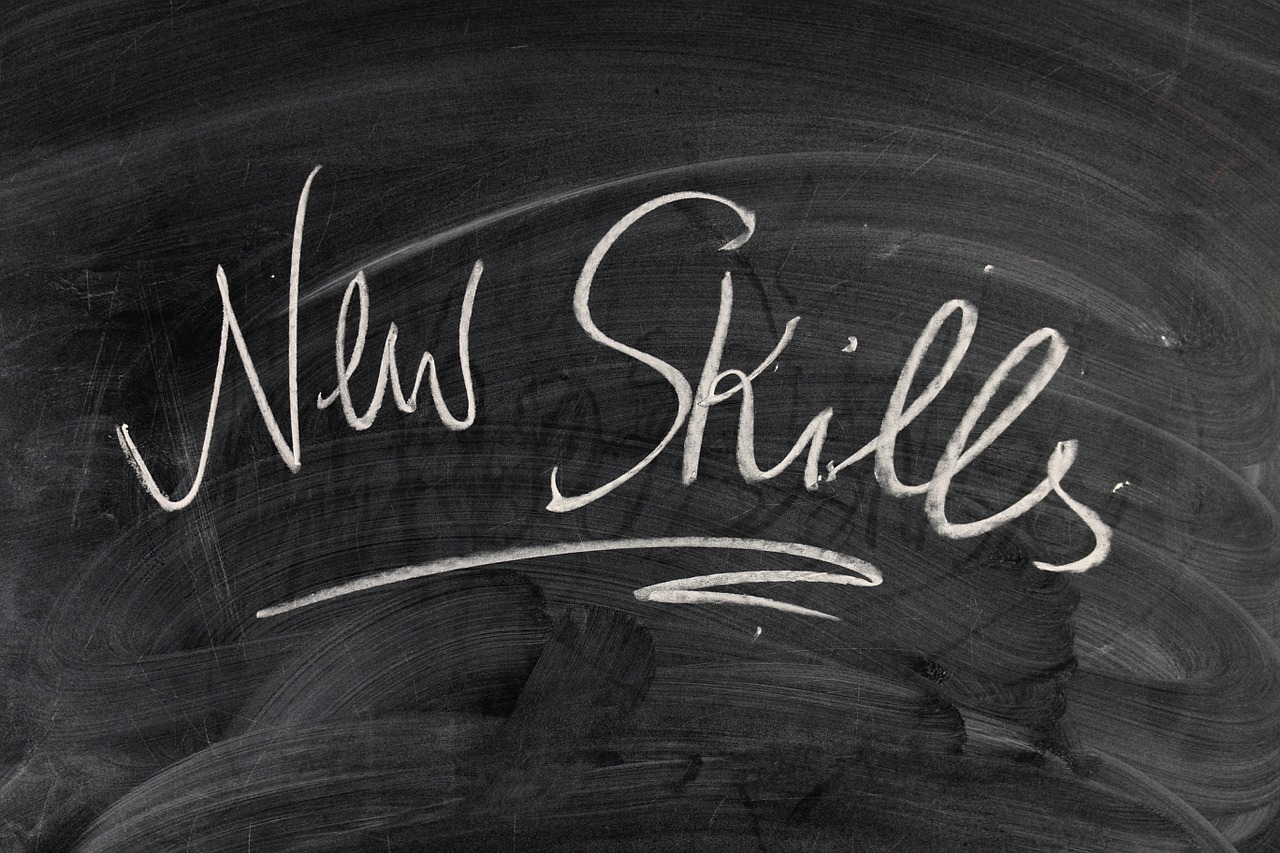 18. Keep Your Distance
Keeping your distance from the ball is extremely important. In the amateur game, you often see players overrun the ball, particularly in the back corners. Getting too close to the ball limits your options. Make sure that you're far enough away from the ball to be able to freely swing your racket.
19. Stay Positive 
Even if you're down a game or two. Stay positive. Go back on to court feeling like a winner. If you go back on court feeling like you've already lost then you surely will. So change your tactics, keep your head up and go back on court feeling like you're going to win!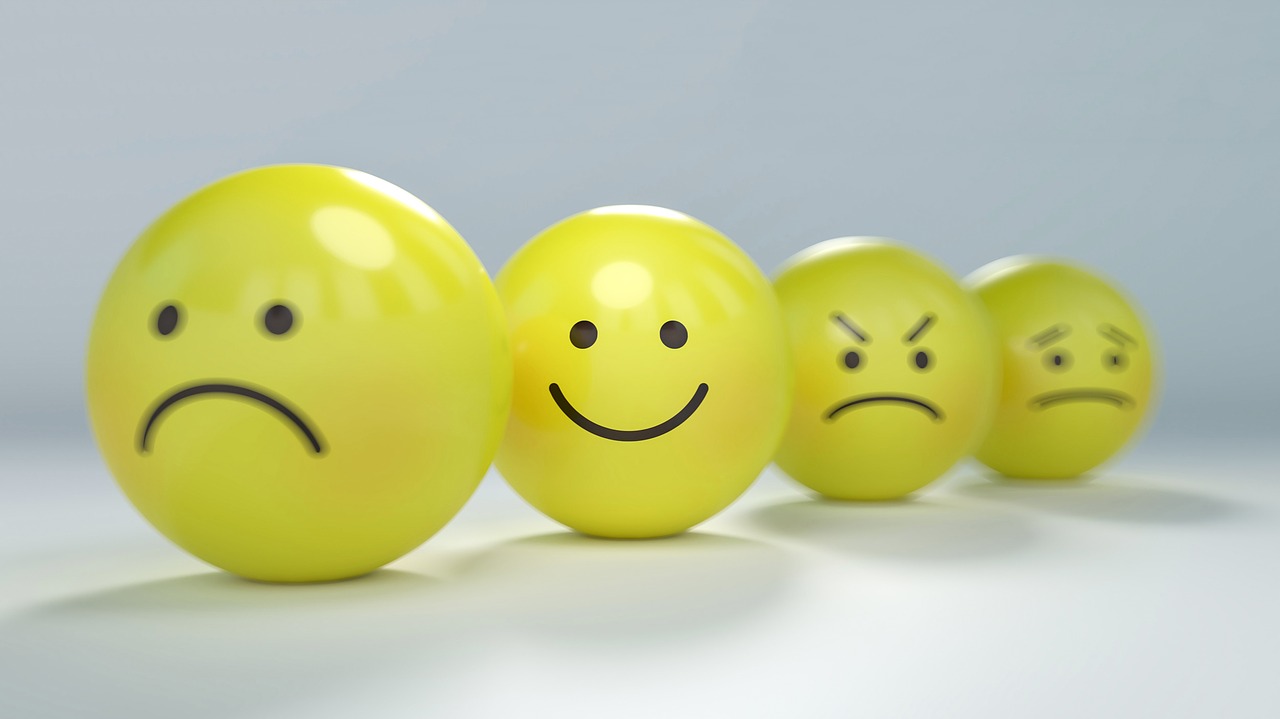 20. Watch the pros
Fire up youtube and watch some of the pros in action. Look at both past and present. Notice how they often play long rallies to build up to an eventual winning shot. You can work out some of your own additional squash tips from watching the experts at work!

21. Prepare Your Racket Early
Prepare your racket early. This enables you to show your opponent that you can hit the ball to anywhere in the court.
22. Workout At The Gym
Ask any seasoned squash player about fitness and they will tell you that you need to be fit to play squash, and how true that is. The fitter you are the better your game will be. Focus on core strength and stamina.
Do lightish weights but with many reps, your goal isn't to bulk up it's simply to get as fit as you possibly can.
Core strength should give you better stability with the shots that you play. It also helps you think better. Squash is sometimes referred to as 90-miles-an-hour chess, a fit body means a fit mind and you will be better able to make those snap decisions if your feeling fit and healthy.
Don't have access to a gym? Then no problem do some body-strength exercises… Think press-ups, the plank, abdominal exercises, squats, squat thrusts, etc.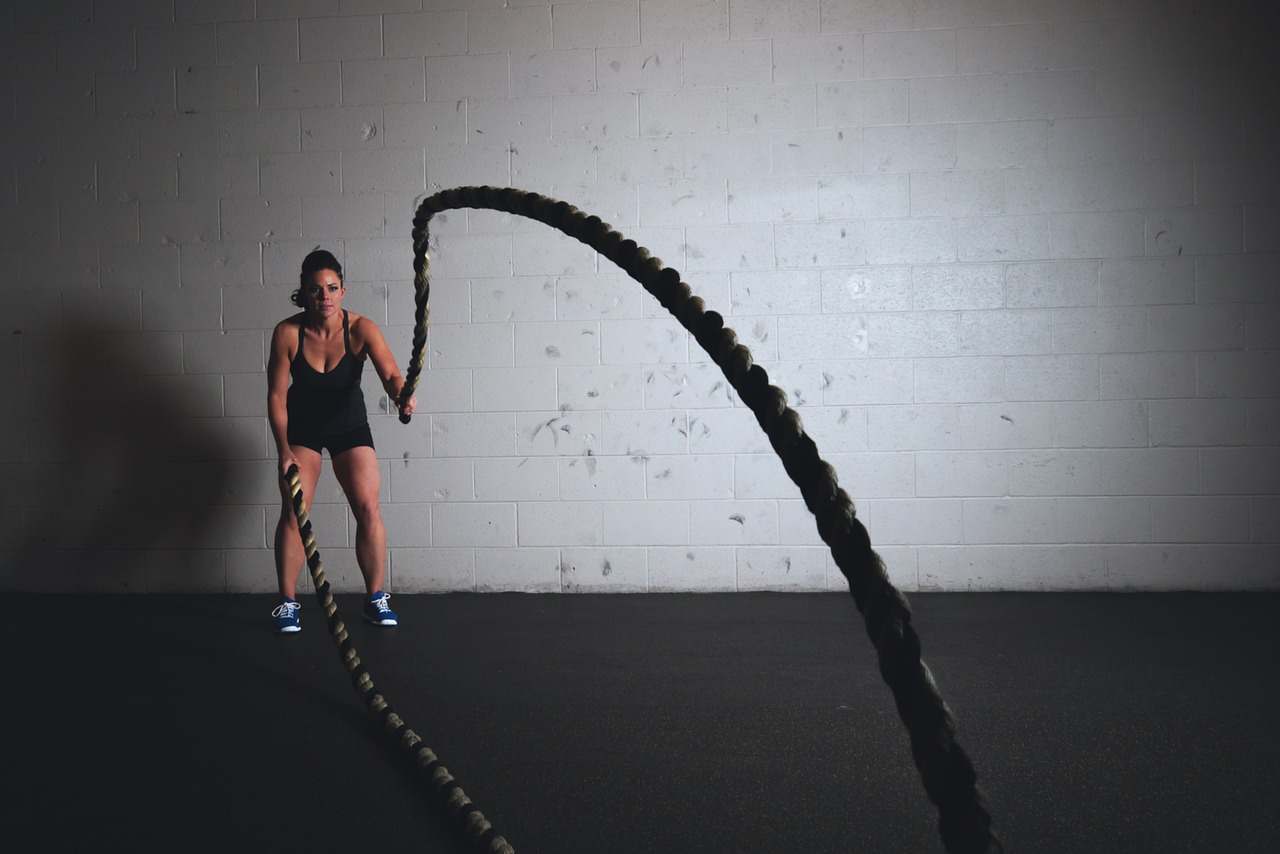 23. Learn How To Play A Backhand Serve
If you don't already play a backhand serve, then this can be quite a big change to your game. It is worth practicing though as it enables you to see your opponent better and get to the T much quicker. You will find that the angle off of the front wall is completely different but you will soon master it and then start to reap the benefits!
24. Try not to boast too much
Most beginners rely far too heavily on the attacking boast shot. Occasionally boasts can work well but more often than not they can put you in a difficult position. So if you think you can play a straight drive instead then do so. Boasting the ball only tends to be really effective when your opponent isn't expecting it.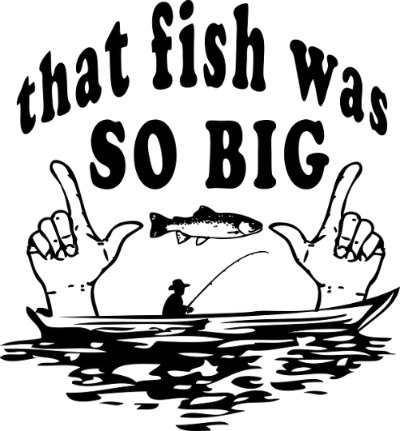 25. Do Some Solo Practice
Taking some time on the court to practice on your own is an excellent way to improve your game. Professional players do solo practice sessions for a few hours every week. If you manage even just the odd twenty minutes a week you should see big improvements in your gameplay.
Place a target against tight to the sidewall and touching the back of the service box. Then play straight drive lengths to yourself. Try to hit the target on each shot that you make. Repeat on both the backhand and forehand walls.
For a different kind of solo practice try playing straight drives where every ball lands in the service box. Keep a count of how many you can do consecutively, then do the same routine on the opposite side of the court.
Other good ones are:
keeping count of how many straight volleys you can keep going. Try this routine from different distances from the front wall.
keeping count of how many cross-court volley-boasts you can playback to your self. Front-wall, side-wall, above the service line then same shot to the opposite side.
Same as above but lower and faster, allowing a bounce of the ball.
Playing a loose boast to yourself near the front of the court and then attempt to play a front wall – side-wall drop shot. With the ball landing as close to the nick as you can get it.
26. Don't Over-Rotate
When you've swung through the ball try not to over-rotate.
Try and make sure that your shoulders remain square to the sidewall when you hit the ball and direct your follow-through in the direction of your target on the front wall.
27. Keep In Control
Try and control everything within your control! Control your footwork, control how you position yourself to the ball and control the pace that you hit the ball.
28. Possibly The Most Important Of All The Squash Tips … Make Sure Your Club Is Using A Great Court Booking System!
Practice makes perfect and so you need to get those games in and know exactly who you are playing and at what time and a great way to do that is to ensure that your club has an excellent court booking system. I can highly recommend our PlanIt-BookIt product– The members of the squash clubs where we have it installed love it.
Our system is currently in use by the famous Pontefract squash club which has produced a number of world-champions and is highly likely to produce more in the future.
Amongst others, we've also recently rolled it out to another large and well respected squash club too Nottingham Squash Club. Another club known that is home to a large number of professional players!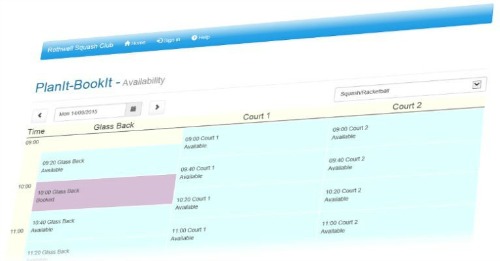 It even works great on your smartphone!…
To find out more please click here.