The correct squash equipment is essential if you are considering participating in the wonderful game of squash. Luckily you don't need too much equipment to get started and it's not overly expensive.
First off you want to make sure that you have some decent squash shoes, these should be non-marking and allow you to comfortably move around the court.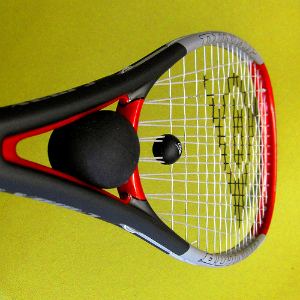 (Photo Credit: Michael Pederson)
Next you need to make sure that you have a racket . There are many different makes and styles of rackets so see if you can speak to your local squash pro for advice. They may have some demo models so that you can try before you buy. Weight and feel is very individual and therefore what might feel great for someone else may not feel right for you.
Generally the lighter rackets cost more money, but light isn't always the best with some players preferring a little more weight in order to get more power on their shots.
You also need a squash ball . These come in various speeds depending on your level of play and the temperature of the court. The slower balls are meant for more advanced players.
Finally you need some light fitting clothes that are comfortable, don't make your body overheat and allow ease of movement. Before buying, check the policy at your local club as some clubs insist on an all-whites dress code.
One essential piece of kit that shouldn't be forgotten is eye guards. Squash balls are very small and can be quite dangerous if they hit you directly in the socket of your eye. For this reason it is highly recommended that you purchase some eye protection. It is compulsory for all players under eighteen to wear eye protection and some clubs insist on eye protection for all players regardless of age.
Go From Squash Equipment To The Home Page