Asics squash shoes use such technologies as the Impact Guidance System (IGS), the core gel cushioning system and Biomorphic which aim at increasing both comfort and performance for the squash player.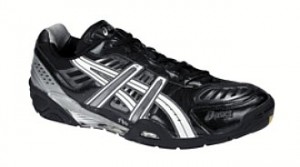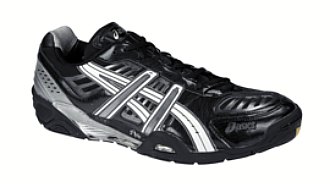 Asics Gel Blast 3
IGS is designed to allow the squash players foot to feel natural upon impact.
The gel system is optimized for shock absorption with the use of a special kind of silicone. The gel units are placed in strategic impact points across the base of the shoe in order to enable the player to feel natural in the positions they adopt throughout the duration of a typical game.
Their high end indoor shoe is named Gel Blast 3 and incorporates resistant synthetic leather built into the upper of the shoe to help prevent too much wear from the player dragging their feet; Asics refer to this technology as 'Rhynoskin'.
Their squash shoes incorporate the compulsory non marking rubber out sole, which is also designed to improve grip on the court.
ASICS stands for "Anima Sana In Corpore Sano" which translates to "A Sound mind in a sound body."
Go From Asics Squash Shoes To The Home Page