Squash is a racquet sport played by two or four players in a four-walled court with a small, hollow rubber ball. Here are the basic rules of squash:
Two players take turns to hit the ball onto the front wall. A point is awarded each time a player wins a rally.
The ball must hit the front wall each shot but can hit other walls before or after.
The opponent must hit the ball before the second bounce.
Players can hit the ball before it bounces on the floor (a volley).
Players can use all of the court after the serve is hit, there are no restrictions on where to run.
When is a ball out? When it hits the tin or out line, when it hits above the out of court line (on a serve or during a rally), when it bounces on the floor more than once before being hit, or when a player hits the ball out of court.
A typical squash match is a best of five games, meaning the first to win three games wins the match.
Each game is a race to 11 points. If two players/teams are tied at 10-points each, the first to build up a two-point lead wins the game.
You can only hit the ball once before your opponent hits it. The contact must also be singular; you cannot 'carry' the ball.
The ball can only bounce once on the floor.
You must make every effort to clear your shot and ensure your opponent has room to play their shot.
After playing a shot, you must make every effort to get out of the way and allow your opponent freedom to play the ball and play any reasonable shot they wish.
If you feel that you are obstructed or impeded by your opponent, you must say 'Let ball, please' or 'Stroke' to stop play.
The ball can hit any of the walls first but it must always hit the front wall before it hits the floor. If it doesn't, it is out.
If the ball hits any of the lines at the top of the court or the Tin, the red line and boards at the bottom of the front wall, it is out.
You only get one serve in squash so take your time. However, if a player makes no contact with the ball, it does not count as a serve and theoretically, this could happen over and over again.
The ball must be served direct on to the front wall between the service line and the out line, so that on its return, unless volleyed, its first bounce lands within the back quarter of the court opposite to the Server's box.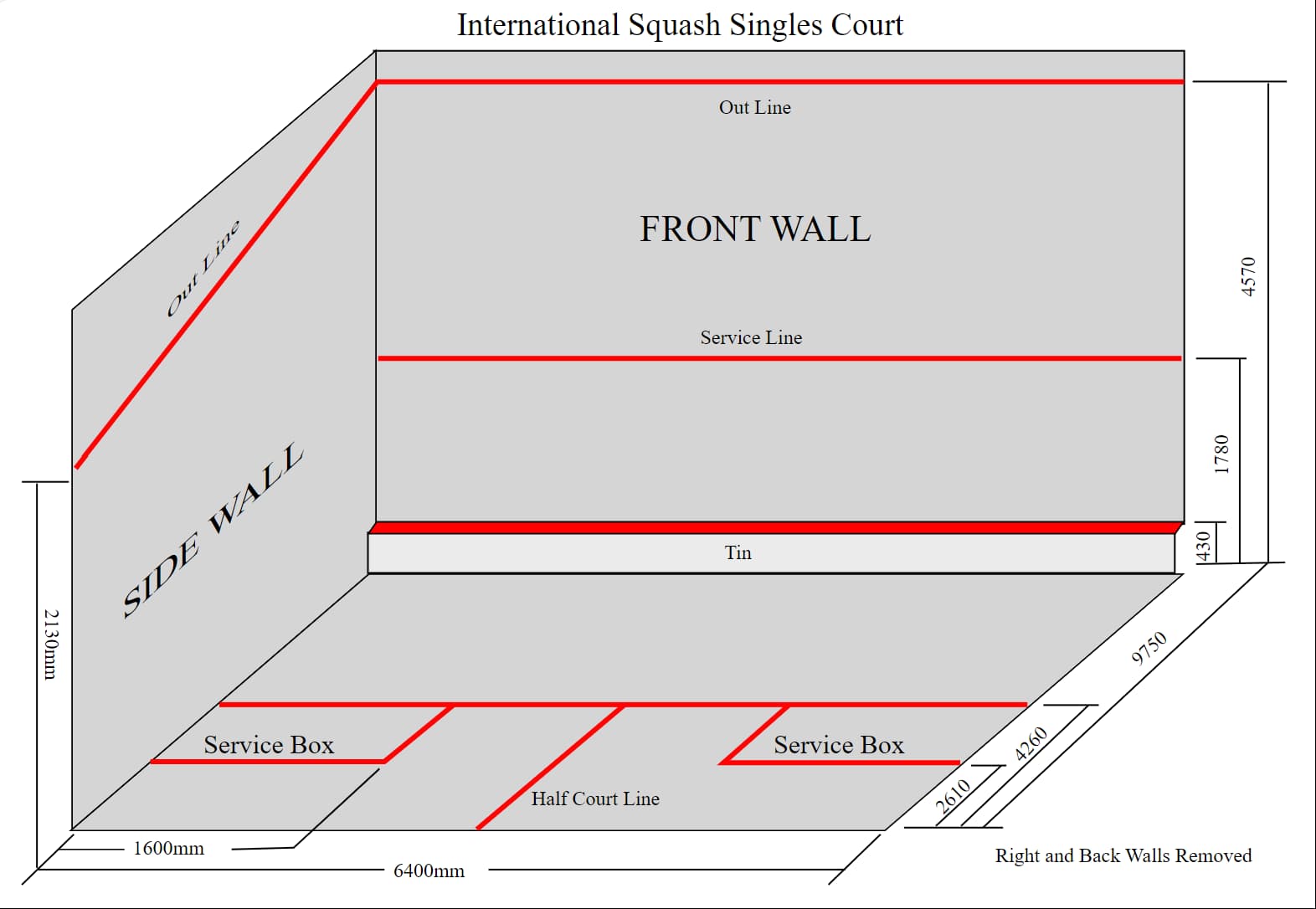 These are the basic rules of squash. It is important to note that there are many variations of the game, and the rules may differ slightly depending on the level of competition or the location of the court.
Citations:
[1] http://www.squashsa.asn.au/w/participation/basic-guide-to-squash
[2] https://thesquashcompany.com/rules-of-squash/
[3] https://olympics.com/en/news/squash-rules-how-to-play
[4] https://ussquash.org/rules/
[5] https://www.englandsquash.com/get-involved/play/rules-of-squash
[6] https://www.psaworldtour.com/news/squash-rules-the-basics-explained/