Keep your head up even when you're mid match and you're losing by a couple of games. Don't beat yourself by walking back on to the court feeling like you've already lost.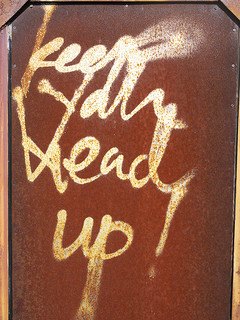 (Photo Credit: David Rush)
Stay Positive
If you're two games down and are about to walk back on to court to start game three then walk on court as if you've already won the match. Keep your head up, look and feel positive.
[gard]
If you don't walk back on to court with a feeling that you've got a chance of winning then it's highly unlikely that you will win even a single game.
Change Tactics
Now is the time to mix it up. What can you do differently? Have you been playing a fast hard match up-to-now? If so, then try slowing it down, throw a few high lobs into the game – think more about your game and use the lobs to give yourself that extra thinking time.
Conversely if you've been playing a slower, more thinking type of game then try notching it up a gear. Play your next game like your life depends on it. Put everything you've got into it. Your opponent might be more tired than you think.
If you have friends or team mates watching your game then ask them to remind you of which of your shots have been your most effective. Or have they noticed any weaknesses in your opponent?
Change it up and go back on court believing that you're going to win.